Water
CEP articles related to water:
AIChE publishes many articles in its Chemical Engineering Progress (CEP) magazine for members.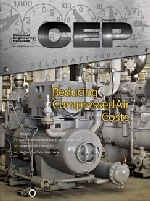 October 2011, Vol. 107, No. 11
Understanding the Fundamentals of Wastewater Treatment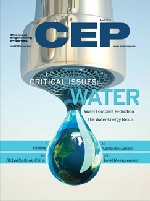 April 2011, Vol. 107, No. 4
Meeting the Needs of the Water-Energy Nexus
Reduce Your Plant's Water Footprint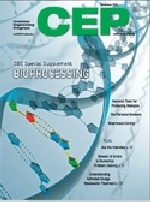 November 2009, Vol. 105, No. 11
Wastewater Treatment: Understanding the Activated Sludge Process

Other articles related to water:
Results of the EESI Brief on Briefing on Hydraulic Fracturing
On June 21st, the Environmental and Energy Study Institute (EESI) held a briefing on Capitol Hill in Washington, DC about the water impacts of hydraulic fracturing of shale gas deposits. Speakers included representatives from both domestic and international organizations. The full set of results, with audio and video, can be found at the link above.
GAO Report on Climate Change Carbon Offset
The report provides information on key challenges in assessing the quality of different types of offsets and options for addressing key challenges associated with offset quality. This information would be important if the US adopts a program to limit emissions. GAO reviewed relevant literature and interviewed selected experts and stakeholders such as project developers, verifiers, and program officials. However, the report contains no recommendations.
Journal of Management and Public Policy: Special Issue on Water December 2010, Vol. 2, No. 1
This is a bi-annual peer reviewed international journal published in June and December every year by the Management Development Research Foundation, New Delhi, India. The online edition of the journal is available at http://www.jmpp.in as an open access journal. The December issue is the "current issue." You can find earlier issues by going to the archive list on the left-hand side of the home page.
Report of the Land and Water Forum, A Fresh Start for Freshwater
This report covers a variety of land and water problems in New Zealand, which may be similar to those faced by others.
Key trends in water resources research uncovered
A new report reveals the increasingly international and strategic nature of water resources research.
Top 40 Science Questions for U.S. Conservation Policy Makers
A wide-ranging group of experts have published a set of 40 key environmental questions to help align scientific research agendas with the needs of natural resource decision makers.
Fracking controversy: using water, sand and chemicals to extract natural gas from shale
The turmoil in oil-producing nations is triggering turmoil at home as rising oil prices force Americans to pay more at the pump. Meanwhile there's a growing industry that's promising jobs and access to cheaper energy resources on American soil, but it's not without its controversy.
Environmental E. coli: New way to classify E. coli bacteria and test for fecal contamination
The meaning of the standard fecal coliform test used to monitor water quality has been called into question by a new study that identified sources of Escherichia coli bacteria that might not indicate an environmental hazard.
Natural gas from shale contributes to global warming, researchers find
Natual gas extracted from shale formations has a greater greenhouse gas footprint than conventional gas, oil, and coal over a 20 year period. This calls into question the logic of its use as a climate-friendly alternative to fossil fuels, according to researchers.
2009 ASME Water Management Technology Workshop
The American Society of Mechanical Engineers (ASME) convened a workshop entitled "Water Management Technology Best Management Practices and Innovations Workshop for the Process Industries," held May 13-14, 2009 at EPA Headquarters in Washington, DC. The report of the workshop, along with earlier ASME work, is available here.
Watershed Sustainability Index Study
This study considers Hydrology, Environment, Life, and water resources Policy (HELP) as the most important elements in the watershed, and combines them with a pressure-state-response approach to develop an overall watershed sustainability index.
Report: Altered Streamflows Leading to Degraded River Ecosystems across U.S.
This USGS assessment provides the most geographically extensive analysis to date of streamflow alteration. Findings show that the amount of water flowing in streams and rivers has been significantly altered from land and water management in nearly 90 percent of waters that were assessed in the nationwide USGS study.

2010 GWPC Annual Forum featuring the Water Energy Sustainability Symposium
The Ground Water Protection Council is pleased to announce that the online proceedings of the 2010 GWPC Annual Forum featuring the Water Energy Sustainability Symposium are now available online by clicking the link above.

More on the Energy-Water Nexus
Water and energy systems constitute the foundation for modern infrastructures around the world. Water and energy infrastructure are interdependent. In the U.S., energy production and power generation systems are major users of freshwater resources besides agriculture. The major goal of this report is to show dependency of energy production and power generation systems on water availability.
Peak Water Limits to Freshwater Withdrawal and Use
This paper presents a detailed assessment and definition of three concepts of "peak water": peak renewable water, peak nonrenewable water, and peak ecological water. These concepts can help hydrologists, water managers, policy makers, and the public understand and manage different water systems more effectively and sustainably.
Sustainable Water Resources Management Volume 3: Case Studies on New Water Paradigm
The Water Environment Research Foundation (WERF), in cooperation with the Electric Power Research Institute (EPRI), has completed a research effort to help communities overcome their challenges. The project, which considered the real-life challenges of two communities in Tucson/Pima County Arizona and Northern Kentucky, developed a new water management paradigm to support communities' efforts to organize around and operate under key sustainability principles and practices.
Water Consumption in the Production of Ethanol and Gasoline
Water consumption was analyzed for a number of sources, such as ethanol, conventional fuel feedstocks, oil sands, etc. It appears that water consumption varies not only with region, but also according to the technologies employed, and recovery processes.
American Water Resources Association (AWRA) Watershed Update, Jan.-June 2010
The AWRA has posted on its web site an article on Water Resources Sustainability. The article covers definitions of water resources sustainability, a comparison between the rate of water use and the rate at which water can be replenished, and a systems analysis approach which discusses how water sustainability is affected by long duration, the use rate, moderate solutions to problems, and the flexibility of solutions.
The International Water Association has made available power point slides on the impact of biofuel development on water resources. Click on the link above to view the slides.